Nikola Jokic's net worth in 2023, salary, wife, career stats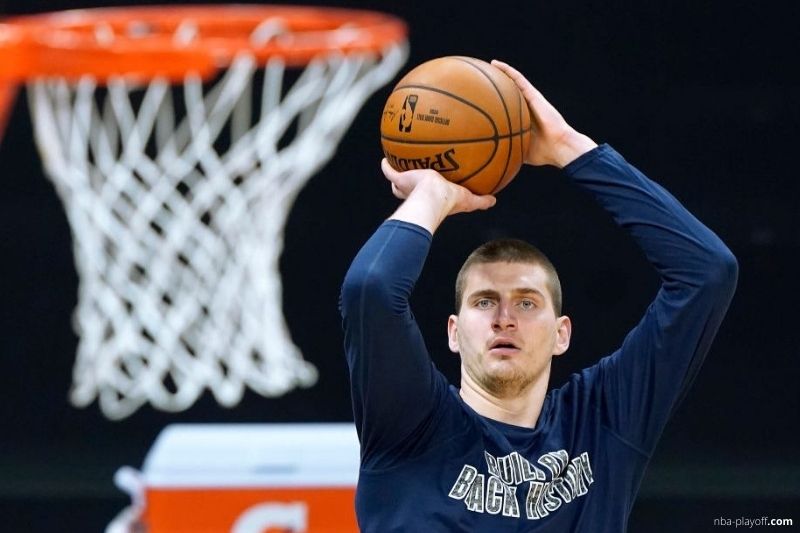 Nikola Jokic is an active NBA (National Basketball Association) player for the Denver Nuggets since 2015. Nikola came up into the tournament from the KK Mega Basket, Serbian men's professional basketball club. Nikola was drafted as an American professional basketball player in 2014 by the Denver Nuggets in the 2nd round 41st overall pick. Nikola Jokic is currently playing in the Center position at Nuggets where his jersey No. is 15. According to Wikipedia 27-year-old Jokic was born in Sombor, Serbia, FR Yugoslavia on February 19, 1995, 6 ft 11 in height, and 129 kg weight.
Nikola Jokic's net worth
Nikola Jokic's net worth is around $35 million USD. However, it can fluctuate over time and is affected by various factors such as carrier earnings, endorsements, investments, and expenses.
Salary
Nikola Jokic's annual salary was $32 million and his monthly income $2,50,000 USD. He signed a 5-year deal worth $147.7 million with the Nuggets recently. However, NBA players' salaries can vary based on various factors, such as years of experience and performance bonuses.
Wife
Nikola Jokic's wife's name is Natalija Macesic. The couple got married in Serbia in October 2020. They have been together since their teenage years and grew up in the same town of Sombar in Serbia.
Here we have rounded up everything you need to know about Nikola Jokic's current NBA team, position, age, draft, starting career, college basketball team, career highlights, awards, and much more you need to know.
| | |
| --- | --- |
| Age | 28 (February 19, 1995) |
| Nationality | Serbian (Sombor, Serbia, FR Yugoslavia) |
| Current team | Denver Nuggets (2015) |
| Position | Center |
| Height | 6′11″ (2.11 m) |
| Weight | 129 kg |
| NBA Most Valuable Player | 2021, 2022 |
| NBA All-Star | 2019–2023 |
| All-NBA First Team | 2019, 2021, 2022 |
| All-NBA Second Team | 2020 |
| NBA All-Rookie First Team | 2016 |
| Serbian Player of the Year | 2018, 2021, 2022 |
| ABA League MVP | 2015 |
| ABA League Top Prospect | 2015 |
Nikola Jokic Career Stats
| | | | | | | | | | |
| --- | --- | --- | --- | --- | --- | --- | --- | --- | --- |
| Year | Team | GP | Min | Pts | FG% | 3pt% | Reb | Ast | Stl |
| 2022-23 | Nuggets | 69 | 33.7 | 24.5 | 63.2 | 38.3 | 11.8 | 9.8 | 1.3 |
| 2021-22 | Nuggets | 74 | 33.5 | 27.1 | 58.3 | 33.7 | 13.8 | 7.9 | 1.5 |
| 2020-21 | Nuggets | 72 | 34.6 | 26.4 | 56.6 | 38.8 | 10.8 | 8.3 | 1.3 |
| 2019-20 | Nuggets | 73 | 32 | 19.9 | 52.8 | 31.4 | 9.7 | 7 | 1.2 |
| 2018-19 | Nuggets | 80 | 31.3 | 20.1 | 51.1 | 30.7 | 10.8 | 7.2 | 1.4 |
| 2017-18 | Nuggets | 75 | 32.5 | 18.5 | 49.9 | 39.6 | 10.7 | 6.1 | 1.2 |
| 2016-17 | Nuggets | 73 | 27.9 | 16.7 | 57.8 | 32.4 | 9.8 | 4.9 | 0.8 |
| 2015-16 | Nuggets | 80 | 21.7 | 9.9 | 51.2 | 33.3 | 7 | 2.4 | 1 |
| Career | | 596 | 30.8 | 20.2 | 55.3 | 34.8 | 10.5 | 6.6 | 1.2 |